Finalists announced for Sustainable Business Awards
The Sustainable Business Awards are Aotearoa New Zealand's pre-eminent sustainability awards. Now in their 20th year, they recognise businesses, local government, social enterprises and individuals for success in sustainability.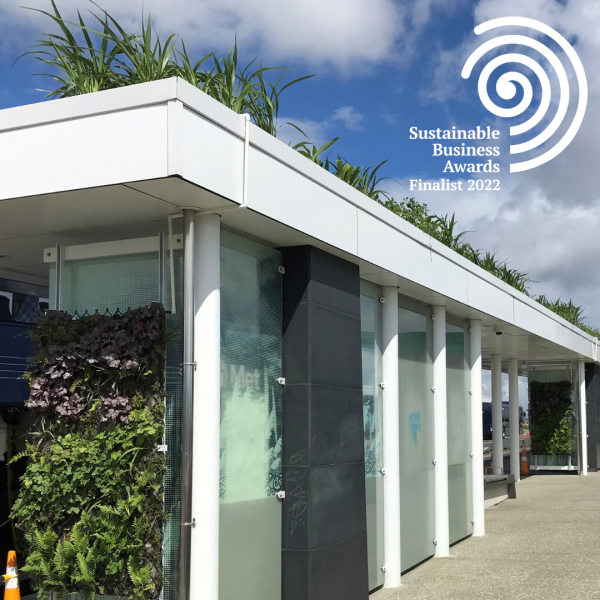 We are thrilled to have had the living bus shelters in Panmure named a finalist for the Regenerating Nature category at the 2022 Sustainable Business Awards
The living bus shelters are thought to be a first for New Zealand and are part of Auckland Transport's wider effort to respond to climate change.
We proudly partnered with Auckland Transport, Koru Environmental, Manaaki Whenua, Aireys Consultants and Pattle Delamore Partners to bring this project to life.

The bus shelters are home to over 1000 plants which adorn the shelters' roofs and walls, joining a number of existing green roofs and green walls around Tāmaki Makaurau.
"The mahi of Pattle Delamore Partners, Auckland Transport, Koru Environmental, Manaaki Whenua, Natural Habitats, Aireys Consultants Ltd to create living bus shelters in the Auckland Transport network is an exciting collaboration that I will watch with interest as you roll out Auckland wide next year.

Nature based solutions are key to our progress on the dual crises of biodiversity loss and climate change. It seems that this project will achieve wins on multiple levels and will help to bring the conversation closer to people in an urban conservation setting." - Mike Tully, Acting Director General, Department of Conservation (category sponsor).

Rachel Brown ONZM is founder and CEO of the Sustainable Business Network, which runs the Awards. She says:
"As I watch the news about the droughts in China and the massive flooding across our own country, these Awards remind me there are really good businesses here playing a positive role.


"The 71 finalists showcase what is possible in a more sustainable economy. These businesses are all playing a crucial role in actively addressing the urgent issues of our time, including the climate emergency and our nature crisis. They include corporates, small enterprises and individuals from the public and private sector, showing that whoever you are you have a part to play."


"Our awards have been running for 20 years and continue to prove that our small nation can make a big difference on these challenges. For some their impact is significant and local, and for others it has the potential to change the way whole sectors work."

The winners for all categories will be announced at a ceremony at the end of November. The ceremony will be held in Auckland and broadcast online.