Natural Habitats is proud to have partnered with Auckland Transport to bring two bus shelters to life with green technology. The living bus shelters are thought to be a first for New Zealand and are part of Auckland Transport's wider effort to respond to climate change.

Mayor Phil Goff says he welcomes the trial, "Increasing the amount of green space in our city will make it more pleasant, livable and environmentally sustainable, while contributing to our other efforts to tackle climate change."

The bus shelters are now home to over 1000 plants which adorn the shelters' roofs and walls, joining a number of existing green roofs and green walls around Tāmaki Makaurau.

"By nature, plants are living filters, capturing and storing air pollutants as well as water pollutants," says Graham Cleary, Founder, Natural Habitats. "This makes them the ideal tool in the fight against climate change by their process of carbon sequestration and their ability to mitigate stormwater runoff."

Natural Habitats is proud to use innovative, ultra-light technology unlike any on the New Zealand market. This technology is known as eco-pillow technology which primarily consists of recycled polystyrene that has been taken out of cities' waste systems and then manipulated to mimic soil.

"Green roofs and green walls are a really important part of how Auckland Transport responds to climate change" says Cathy Bebelman, Environmental Specialist, Auckland Transport.

Green roofs and green walls have multiple benefits for people and the natural environment including; improving air quality and storm water management, reducing waste, increasing biodiversity, reducing energy consumption and absorbing urban heat.

Auckland Transport will be applying learnings from the trial to the ongoing AT work programme, "Greening Our Network."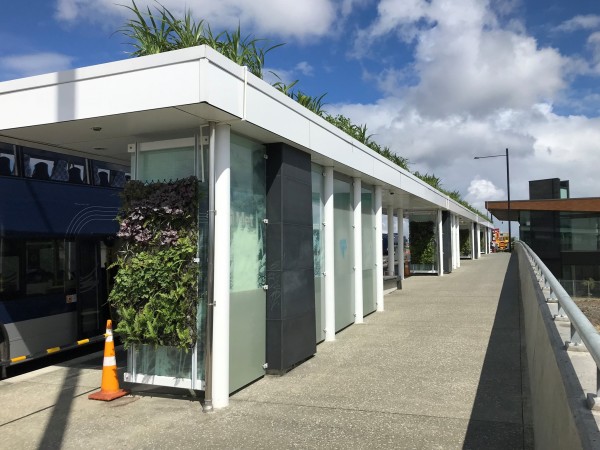 Pictured above, freshly installed green walls and green roof in Panmure.

Read more here.