Congratulations to Luke McMeekin who has marked 10 years of service with Natural Habitats this month.
Luke is one of our integral Auckland Maintenance teammates and is a Site Manager in East Tamaki.
"10 years ago, Brian picked me over 10 other people who applied for the same role I did and I couldn't have made it this far without his support."
Luke credits a fair amount of his success to the people he works with:
"I work with an awesome team on my site and have to mention, Sifoni, Lacey, Hector and Eduardo who all make my job that much better."

"It's been a pleasure working with Natural Habitats and learning from the wider team. Everyone has their own area of expertise, so if you ever need a hand, or a bit of guidance, there is always someone to call on."
Having worked his way up from a maintenance gardener to manage one of our prominent sites in East Tamaki, Luke has been determined to make his career goals happen.
"You've got to know how to learn from your teammates and trust yourself. It's not always a straightforward path, but it's nothing a bit of hard work and dedication can't handle."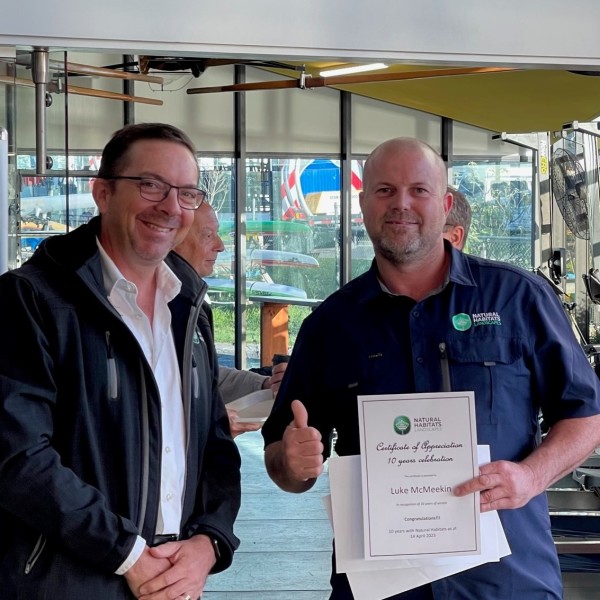 Pictured above: Chief Executive Gavin Riddle hands over Luke's certificate at a Shed Meet