In the biggest year to date Natural Habitats was bestowed 23 awards at the 2022 Landscapes of Distinction Awards. Winning so many awards across the spectrum of design, construction and maintenance in residential and commercial landscapes proves Natural Habitats is the leading landscaping company in New Zealand.

Employee Guillaume Chabbert also won the coveted Young Landscaper of the Year and Outstanding Achievement – Career Development in the Young Landscaper of the Year competition.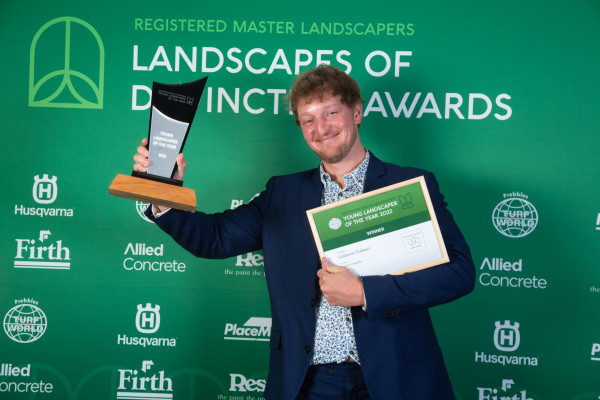 Gavin Riddle, Natural Habitats CEO says Guillaume's win is the crowning accomplishment from the awards. "Nurturing young talent is really important to us and we are thrilled to have had Guillaume recognized with the national title."

The Young Landscaper of the Year and encompassing Landscapes of Distinction Awards showcase the very best in professional landscaping, from landscape construction, design and maintenance within the residential and commercial sectors.
Nestled into the side of the PwC tower, the Sky Terrace was one of the more challenging projects. The Sky Terrace is a podium landscape that required complex construction techniques, adept plant knowledge and detailed project management to create a landscape at height during the building's construction. Spanning over 700sqm, the terrace features rare and endangered native coastal planting, custom-made timber seating and a carbon fibre table as well as green screens, lighting and architectural frames. The client is extremely happy with the results, with the efforts contributing to a 5-star Green Star rating by the Green Building Council of New Zealand.

"Winning so many awards across the categories is an honour, not only for our talented landscapers but also for our clients and partners." says Riddle. "We work hard to create and care for landscapes of the highest standard and it's rewarding to have our efforts recognised with award wins across the disciplines and country."
Natural Habitats won a number of Gold, Silver and Bronze Awards in multiple categories including:
Young Landscaper of the Year: Guillaume Chabbert
Outstanding career development: Guillaume Chabbert

Residential:


GOLD
Design: Ponsonby Pocket Garden
Construction over $100,000: Coatesville Retreat

SILVER
Construction up to $100,000: Ponsonby Pocket Garden
Design: Coatesville Retreat

BRONZE
Horticulture: Ponsonby Pocket Garden
Horticulture: Coatesville Retreat

Commercial


GOLD
Horticulture – Giraffe Early Learning Centre
Construction over $100,000: Sky Terrace
Horticulture: St Johns Garden

SILVER
Construction over $100,000: Giraffe Early Learning Centre
Horticulture: Sky Terrace
Environmental and Revegetation: Duck Creek
Horticulture: Pollen Garden
Horticulture: Les Mills
Maintenance up to 5000m2: Les Mills
Horticulture: Christchurch Southern Motorway, Stage 2
Horticulture: Arrowtown Lifestyle Village
Maintenance up to 5000m2: Broadway Park

BRONZE
Maintenance up to 5000m2: Sky Terrace
Maintenance up to 5000m2: Arrowtown Lifestyle Village
Horticulture: Ryman Kevin Hickman